Testimonials
Alight Custom was wonderful to work with and super affordable!! I highly recommend you check them out for Christmas gifts, wedding decor, home decor, and pretty much anything you can think of. Not only is she very talented, but she started this venture to stay home with her adorable son, and I love supporting that far more than any large retail store!

Jamie Winkler
I LOVE how Brittany is able to help me think up a new idea any time there is something I want made!  She is so creative and has so many ideas!  She can turn my small idea into something way bigger than I could ever come up with on my own!

Kimberly Garner
I have purchases a number of items from Alight Custom, either for myself or for gifts, and I have never been disappointed with the top quality, customer service, or beautiful workmanship.  Check these guys out, as new products are constantly being added... from home design to promotional giveaways to one-of-a-kind cake toppers, these guys are the BEST!

Audrey Todd
Custom Made Pieces
Japanese Family Crest
Keli had an idea to have her Kamon (Japanese family crest) turned into a modern, but traditional wall piece. We used four of our unique stain pairings to match the decor of four different family member's homes.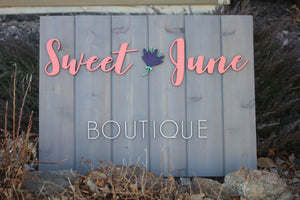 Logo's
Sweet June Boutique is a Colorado-owned, on-line clothing boutique.  When Claudia (owner) came to me explaining that she needed a sign for trade shows, I knew that we could take her logo and make it stand out!  Her logo was cut from 1/4" birch and attached to wood planks.
More than just wood
While wood is our favorite material to work with, we also engrave and cut leather, acrylic, and paper.  We can also engrave glass and anodized aluminum among other materials!